---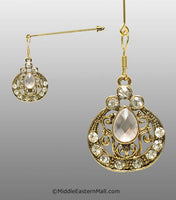 Sale
The Nouveau Hijab Pin features a 1.125" (2.86 cm) long silver-tone component with black antiquing. The entire pendant, excluding the stick pin, measures approximately 1.75" (4.45 cm) long.

The Hijab Pin has characteristic Nouveau detailing: a round organic symmetrical ornamentation surrounds a 10 mm tear-drop shaped multifaceted center stone. The pendant is accented with eleven 3mm white, multifaceted round rhinestones.

The silver-tone stick pin, which is used to secure the hijab layers, is a generous 2.5" (6.35 cm) long, and comes with an end cap to cover the pointed tip.