---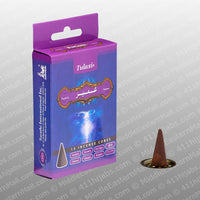 Package of 15 delightfully aromatic Cone Incense Sticks, with circular, metal cone holder. This premier quality, Tulasi product is made in India by Salathi International.
Incense is ideal as an air freshener, for use as aromatherapy, or to enhance the ambience of a meditation session.
Ensuring that cone is firmly set in its metal base, on a heat-resistant surface, and away from any flammable objects, hold a match to the tip of the cone for no longer than 10 seconds. A flame will be visible; the flame should self-extinguish very quickly. However, if it does not, blow it out. The cone will continue to smolder, emanating the lovely scent you have selected .