---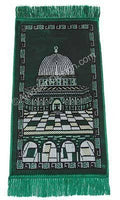 Please read:
The design you are going to receive could be different than the one is showing in the picture but you will receive the right color.
These high-quality rugs are imported from Turkey, a world leader in quality textiles. Each prayer rug measures approximately 23" (58.4 cm) x 13.5" (34.3 cm), and the top and bottom edges are finished in 2" (5.1 cm) fringe. Sides are surge stitched for durability.
Muslim children love having their own prayer rug. Giving a prayer rug to a child is a great way to instill the importance of prayer and encourage their participation.